As you know, we have the specially advance of ultrasonic vibrating screen.And now we have developed the new model on the base of ultraosnice siever machine.
The new type of sieving machine was studyed by our engineer in 2016. The main function is new technology of cleaning sieve mesh type---Air vibration type. It is specially finding the efficient solution of the blocking screen mesh and small capacity: Such as the following difficulty of material character whenever we often should meet:
light(small bulk density), so float on the screen mesh;
Easily aggregation;
Prefer to be adsorbed at the surface of screen mesh.
Feedback from our end user side, this model sieving machine can result for the above difficulty, if for normal material sieving, the capacity can up to 2~3 times at least compared with original model siever.
Last Friday, there is domestic clients who take the raw material make testing in our factory. They have purchased 2 sets ultrasonic vibrating screen machine(diameter-1000mm, mesh- 180,capacity -150~180kg/h) for alumina powder in 2015. After tested the new model of sieving machine, the capacity can up to 800kg/h, 325mesh, diameter of 1000mm.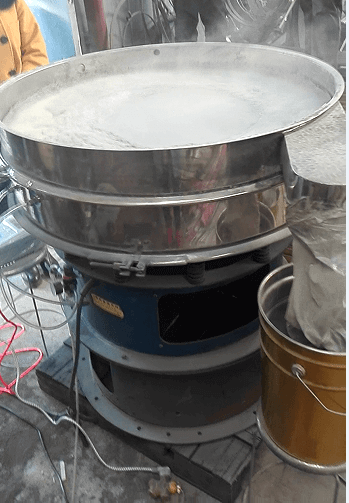 Kindly refer to the video link for more info. https://youtu.be/1ulI5_3segI
Our clients are very statistic with this testing machine report, will make new order of new model vibrating screen machine.